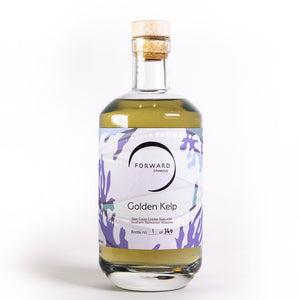 Our third creation is a nod to the sea and the key to levelling up your dirty martini - East Coast Golden Kelp with Southern Tasmanian Wakame. 
Golden Kelp is native to Australian waters and can be found around the whole of Australia. We sourced ours through Sea Health Products, who have been hand harvesting Golden Kelp along the East Coast of Australia since 1970. They are playing a key role in developing seaweed-based food systems and propelling research and development of Golden Kelp as a nature-based climate solution.
Wakame is an invasive seaweed to Australian waters that is not commercially farmed. Instead, it is controlled by hand harvesting and then utilised for its nutritional benefit. We sourced our Wakame through Alg Seaweed, who sustainably harvest their seaweed from Tasmania's Southern Coast.
This liqueur is most suitable as a briny, umami substitute in cocktails that call for vermouth and/or olive brine. 
This limited edition release is 1 of 340, labelled with a painting specially made for this project by Rashad Beaty.
The profits from this project go directly to our endorsed organisations.
700mL
17% alc.
Batch 01 (340 bottles)
Bottled 10/05/22
Label artwork by Rashad Beaty
For ideas on how to drink, please visit our recipes page.